Secor Subaru Community Commitment
Secor Subaru is Committed to Our Community
Here at Secor Subaru we realize that in order for us to be the community dealer here in New London, we need to be an active part of the community. You can't just take from the community as a whole, you have to offer something in return, and this is why we proudly work with several charitable organizations in our community as a sponsor for events or donating our space (our Large Indoor lot) and time to them. Being a proud member of this community is a big part of what makes the Secor Family of dealerships who we are, we live here, we work here and this is where we chose to give back. Here are a few of the local organizations with which we chose to partner.
Commitment to Caring
We are pleased to partner with the ECHO Cancer Foundation and recently provided a donation of 80 blankets and school supply kits. We have supported the foundation for many years. Each blanket that is donated is provided to a patient in active chemotherapy treatment, their family member or their caregiver.  The ECHO Cancer Foundation has recently started an initiative to collect and provide school supplies to patients with young children. The donation from Secor Subaru will go directly towards that initiative.
Pets, People & Cars
From pet food and supply drives to pet adoptions.  Secor Subaru is all about the pets!  
The CT Humane Society is the leading resource in the state for companion animal welfare, enriching the lives of families and communities through adoption services, medical care, education and prevention of animal cruelty. The CT Humane Society embraces the core values of Stewardship, Quality Care, Community Focus and Respect. As I am sure you are very well aware Subaru is a very animal friendly company this philosophy is no different at Secor Subaru, we believe a pet is part of the family and should be treated as such which is why we are so happy to work with the CT Humane Society. We have put together a yearly pet food drive to gather supplies for the local Humane Society via generous donations from our customers and friends. We also sponsor a pet adoption and a film series presented in conjunction with a few other sponsors in order to raise money for the Humane Society. If you would like to learn more about that the CT Humane Society does in our community, would like to volunteer or donate please visit 
www.cthumane.org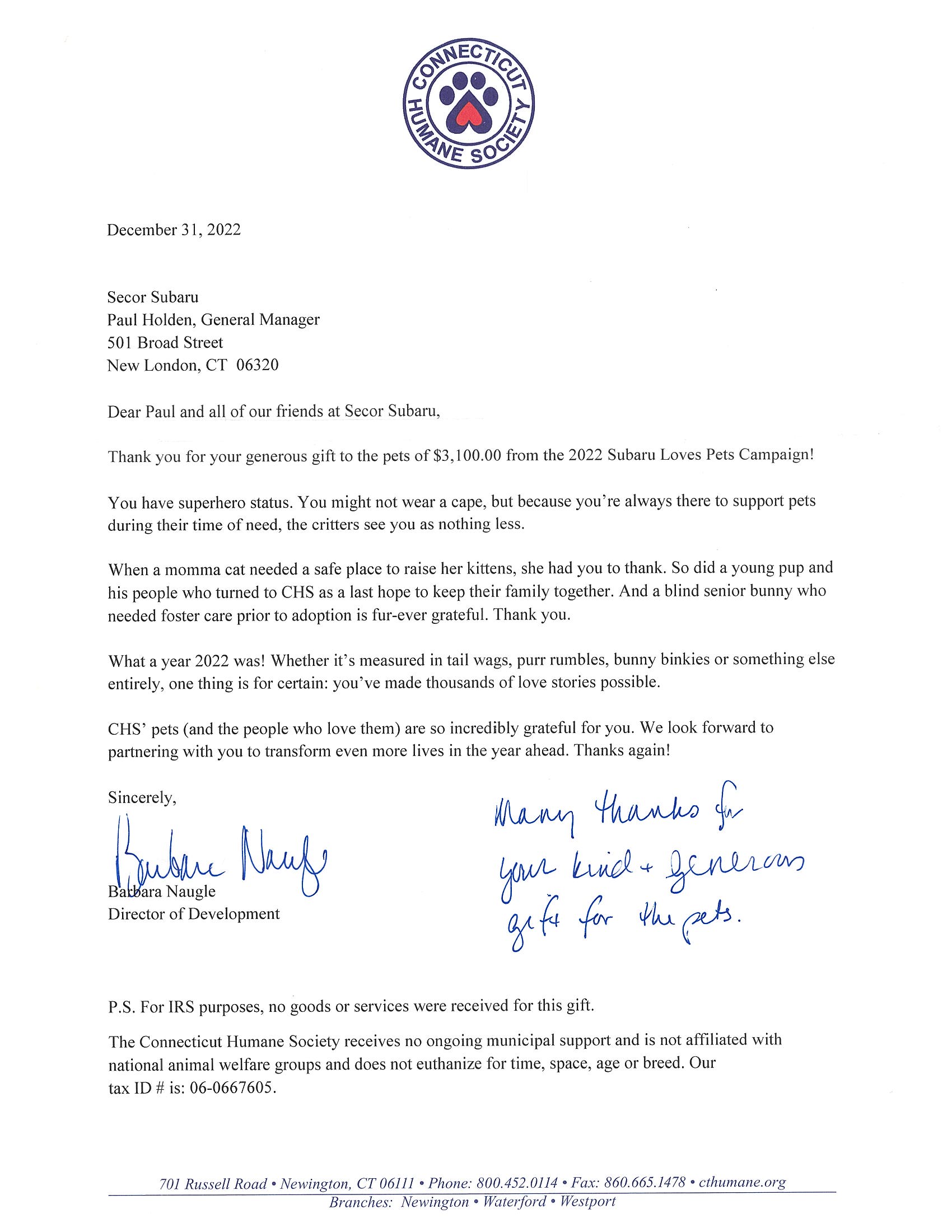 Our Commitment to the Local Environment
Some of the local partners and events we have partnered with are TerraCycle and 
CT Save the Sound Shoreline Cleanup.
Each year we participate in the CT Save the Sound Shoreline Cleanup, collecting hundreds of pounds of trash from our shores to do our part in keeping the community clean and safe for everyone.
Quality Support = Quality Education
For many years we have partnered with the Winthrop STEM Elementary Magnet School to assist in providing funding and resources for our teachers and students.  Safe, secure, and quality education is made possible by supporting our schools and our students.  At Secor, we believe that education is key to the overall betterment of society.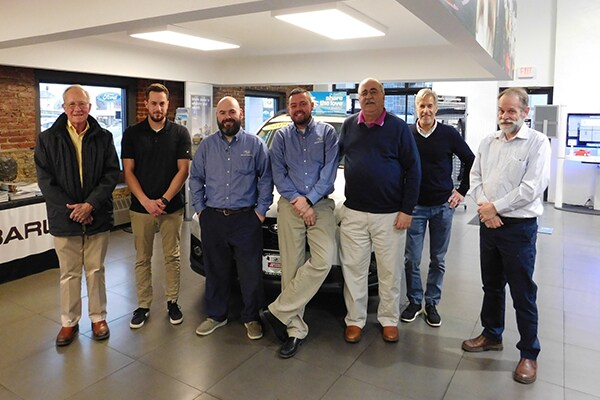 Secor Community Events
The Love Promise Pillars are essential to our dealership, but we are always looking for additional ways to support and be involved in our community.