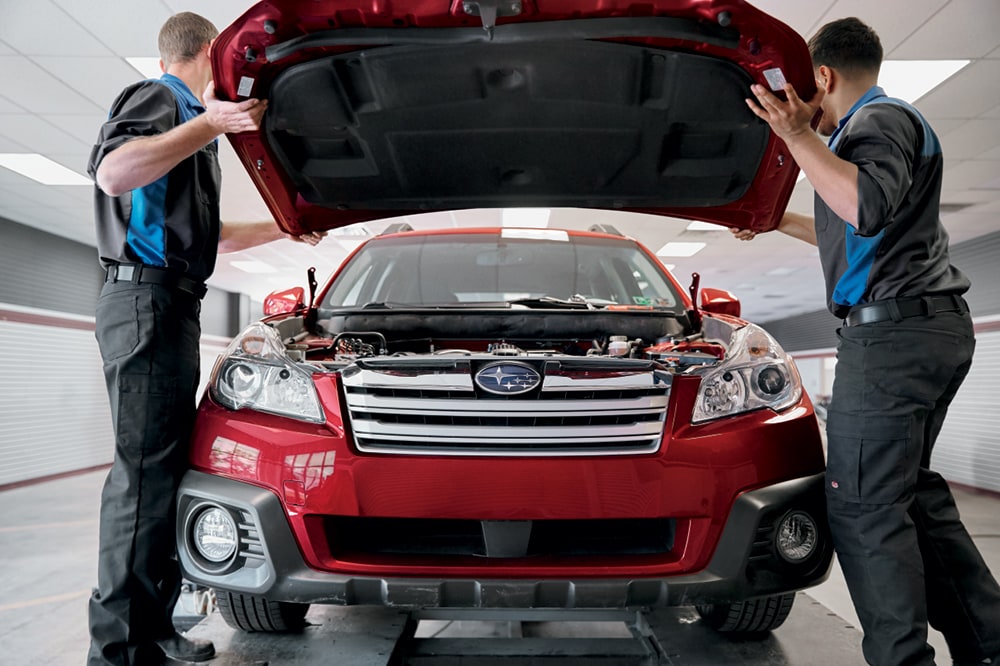 Get Your Vehicle Back To Like New Condition After an Accident With the Help of Our Subaru Certified Collision Center at Secor Subaru!
We're proud to announce that Secor Subaru is now the first and only Subaru Certified Collision Center in New England, recently obtaining the Subaru certification thanks to our rigorous training and possession of the genuine equipment necessary to getting your Subaru vehicle back to its original factory specifications!
Accidents are an unfortunate and unpredictable occurrence that could happen to anyone at any given time. We know how frustrating it can be to get into a fender bender, side swipe or collision, and we want to be here to make sure that the process of getting your vehicle fixed and looking like new again is as simple and convenient as possible.
Our Subaru Certified Collision Center is the first in the area to offer the certified qualifications, meaning that our body shop technicians are all ASE and I-Car Gold certified, giving us the expertise and attention to detail that your vehicle needs. We also offer the proper equipment to address any dents, scrapes, cracks, or scratches, and have the genuine replacement Subaru collision parts to get your vehicle looking and performing like new again in no time.
Subaru Certified Repairs for Leased Subaru Vehicles

Many people overlook the fact that when a leased vehicle is turned in at the end of its lease period, it is inspected by dealership staff for both mechanical and cosmetic issues that fall outside of typical wear and tear. Often times this can result in unanticipated charges in addition to the disposition fee agreed to by both parties at the onset of the lease. For this reason, it's important to have major cosmetic repairs and body damage repaired by an authorized shop in a timely manner. When you have these repairs addressed by Secor Subaru, it means that you never have to worry about charges at the end of you lease for inferior body repairs performed elsewhere.
We Work With All Insurance Companies and Offer Free Estimates!
When your vehicle is damaged, the last thing you should be worrying about is if the damage is covered by your insurance. Our Subaru Certified Collision Center accepts and works with all insurance companies, making the process as seamless and simple as possible, allowing you to bring your vehicle in and get it back in pristine condition faster and more efficiently than ever. We're proud to offer free estimates on all body work, including dent and scratch removal, repair and restoration, paint and finishing, glass work, and more!
24-Hour Emergency Towing Service for Dependable Support in Tough Moments
Dealing with a broken-down vehicle on the side of the road? Run out of fuel during the frigid winter months? These are just a few examples of emergency situations you may face. Thankfully, our emergency towing service runs around the clock to support you during these stressful times and pick up your vehicle whenever you're in a pinch. That level of transparency and the lasting peace of mind you can expect is what separates our collision center from other service facilities in the area.
Call 860-447-8300 to Request a Tow

What Kind of Body Work Services do We Offer?