What Happens After I Schedule an Appointment for Car Service at Secor Subaru?
Here at Secor Subaru, we look forward to welcoming you at our beautiful, all-new Drive-In Car Service Reception Center during your vehicle's next service appointment. We've designed this facility to improve the process of dropping off and picking up your vehicle and ensure a comfortable experience regardless of the weather/season.

Are you a new customer? Please review the following steps prior to servicing your vehicle with us for the best possible experience:

Upon turning down 1st Ave, please pull into the parking lot and follow the signs into the service drive at the end of the lot on the left. You will see two bay doors with green arrows above them. If the doors are not open, they will raise automatically as you pull closer.

Once inside the service reception bay, please drive in as far as you can, leave the keys in the ignition, if applicable, and turn your car off.

Our team of Service Advisors will be located to your left. One of these advisors will greet you and go over all your vehicle's service needs.

Our service porter/valet will tag and move your vehicle and will also wash and vacuum your car and pull it around for you once service has been completed.
After reviewing what service or repairs are to be made to your Subaru; you can wait in one of our two beautiful waiting areas, take our shuttle to where you need to be, or claim your loaner car and be on your way again.

Once your Subaru is ready for you, our service team will go over all which was accomplished and or discovered during the appointment. All of your service needs will be satisfied far above your expectations, finished off with our complimentary full-coverage-undercarriage car wash!
Hours
Monday

8:00AM-5:00PM

Tuesday

8:00AM-5:00PM

Wednesday

8:00AM-5:00PM

Thursday

8:00AM-5:00PM

Friday

8:00AM-5:00PM

Saturday

Closed

Sunday

Closed
Welcome to 
Secor Service Department Serving the greater New London CT area and Westerly RI!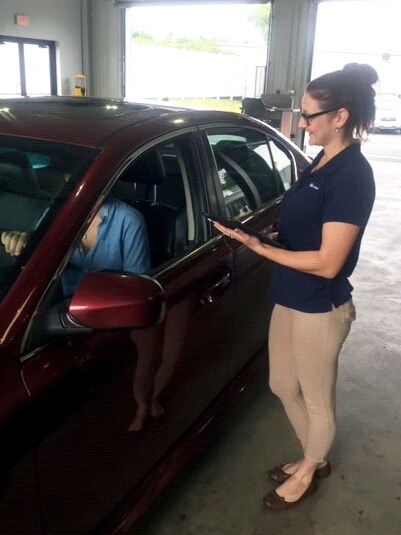 At Secor Subaru, we strive to provide excellent service in a timely manner that will far exceed your expectations. Each time you contact us, our factory trained Service Specialist will assist you with any questions you might have about your Subaru, appointments, upcoming servicing, or major repairs. We are here to make sure your Subaru is in Tip-Top shape and running as wonderfully as when you first bought it!

Servicing your Subaru can seem daunting for our customers who have busy lives on the road. But servicing your Subaru is vital to maintaining the functionality and minimizing the wear-and-tear which comes with use. A variety of alternative transportation services are available at Secor Subaru so that you don't have to stop your busy schedule to service your Subaru. Shuttle services to and from work, home, or any other shopping facility in the area; loaner cars for when your day requires it; and a wonderful lounge with coffee, water, snacks, TV, and Wi-Fi if you bring your work with you on the road. If you are considering a loaner car due to your schedule or a major servicing, please make sure you schedule it when you make your appointment to ensure an expedient car-swap*.

Use our online service scheduler for your next appointment, or call us at 860-442-2323 and ask for our Subaru Service Department.
* Loaner cars must be scheduled when your appointment is made.
New London, Connecticut Car Repairs, Auto Service |
Secor Subaru

Service Center


We understand the importance of the investment made with your vehicle purchase. Our New London car repair center is here to help you protect that investment. By maintaining regular factory- recommend maintenance, Secor Subaru's Service Department can help you keep your Subaru in like-new condition. Our friendly knowledgeable service team and high-tech car service facility sets us apart from other facilities.

Directions
Easy to get to from East Lyme, Norwich, Waterford, Groton Connecticut, and Westerly Rhode Island from Interstate 95, Exit 82 and from Interstate 395, Exit 2. Simply follow CT-85 into New London. In less than a mile from the intersection of I-95 and CT-85, turn left on to 1st Ave and Secor Subaru Service Center will be right in front of you. If you pass the Secor Subaru Dealership on your left, you have gone too far.
The best address to find us on GPS is- 

"17 1st Ave, New London CT".
Your privacy is important to us.
Secor Subaru takes your privacy seriously and does not rent or sell your personal information to third parties without your consent. Read our privacy policy.